It truly humbles and inspires our leadership team to see our volunteers serve our neighbors in need with such compassion. In the upcoming weeks and for years to come, we would like to shine a spotlight on the members of our community who make St. Vincent de Paul Society Naples such a wonderful organization.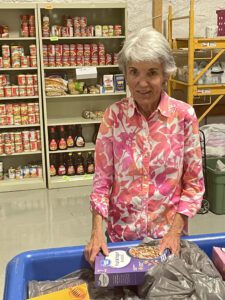 For the past 15 years, Barbara Forsyth has volunteered in the Choice Food Pantry. While she has held many positions through the years, she is currently keeping the shelves stocked with nutritious food for 22,000 family members per year.
Originally, the food pantry offered pre-packaged grocery bags to those in need. Through the years, the food pantry evolved to offer "choice" and a full shopping experience. By empowering individuals to choose their own groceries based on points that are given for them and their families, our clients can be more mindful of budgeting and making healthy choices to feed their families. We are presently assisting about 125 households (minimum 1- 4 people per household) weekly thru the pantry. With the recent inflation and economic challenges, we expect this number to continue growing.
According to Barbara, it is very important that she works towards creating an orderly, efficient, and welcoming place for our neighbors to come. If she had one wish for every neighbor visiting our pantry, it would be that they find something special to take, something they couldn't necessarily choose to buy on a regular basis. She prays for them to leave feeling "luxurious – special."
Are you interested in volunteering? We have a variety of ways that you can help those in need and build lasting friendships. Request more information about volunteering here. 
Would you like to help stock the shelves at the Choice Food Pantry? Our pantry is stocked through the generous donations of our eight conferences, individual donors, foundations, and contributions from food drives. Your business or civic organization can help us feed those in need by hosting a food drive or fundraiser. Contact me to learn more.
Carl Monticelli
Director Development – SVdP Naples
cmonticelli@svdpnaples.org
Office: 239 775 2907 ext 1020